I went to my favorite little camera shop in the area, which is inside the flea market, to look for a Rollei 35 SE. I got it in my head that I needed to purchase a small and old and finicky 35mm camera.
The camera shop is more of a double booth inside one of the permanent buildings at the flea market, across from the guy who sells musical instruments and one aisle over from a guy selling guns, and once there, I discovered the owner, Clem, with whom I've had many conversations about old cameras and why we shoot film, had passed away last year. He always asked me "why would you want to buy this?" And then sell me whatever it was that had caught my eye that visit. A beautiful Bronica with a handle contraption and an extra lens. A Rolleiflex. A lens or two. He always threw some random stuff in the bag. A filter. A battery. 
We'd sized each other up correctly and steadfastly avoided veering into politics so we could maintain the customer-seller relationship. His daughters took over his business, and an old friend of his mans the counter during the weekends when the market is open, for which I am grateful.
I also discovered that they did not have a Rollei 35 SE in stock (though they did have a 35, but it was pretty beat up and not what I'm looking for).
And then I saw this, gleaming brightly on the bottom shelf of the display cabinet. Basically as opposite the Rollei SE I can get without going digital.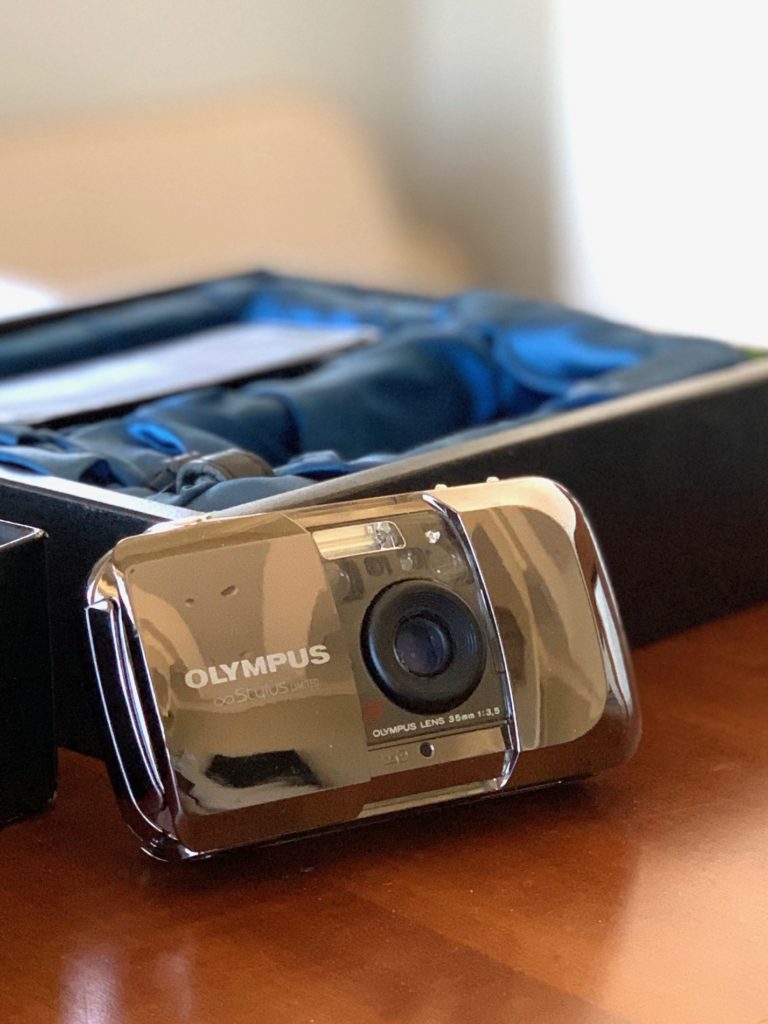 It's not the mju-ii, it's the older one with the 35mm 3.5 lens. But if I am a sucker for anything, it's shiny objects. This is a limited edition (they made 50,000, 10,000 of which were for the States. This is number 01616). It's never been used. It's got this shiny silver-black finish that doesn't come out well in a cell phone snap. The original strap and case have never been out of the box before.
I offered $100, he gave it to me for $125 and threw in a roll of film and a battery, and I'm going to have a little fun. For Clem. Because I'm pretty sure he'd try talking me out of buying it and then would sell it to me anyway.